Welcome to the TRIM.co Blog
We are Trim.co.
BIG news, we're here today to let you in on something big.
We're launching our blog!
The Inside Scoop
At Trim, we're more than haircuts. Our blog is here to help you make the most out of your haircuts. From hair care to the stories behind the cuts we're giving, we're here to give you the tell-all. If it has to do with hair and beauty, we're here to cover it.
Our stylists are our superstars. Between the three stylists, there's a lot of knowledge to be shared. Each of our stylists will do deep dives into some of the latest tips and trends on loving your hair.
Hairstyles, hair treatment, hair tips, and more. Our stylists are here to help with it all.
What is Trim
Here at Trim.co we bring salon-quality haircuts to the workplace.
Trim is an office benefit that both helps employees save time and money. We're bringing some of the city's top stylists directly to your office space. Our stylists provide in-house salon services at your place of business.
When it comes to cuts, our services range anywhere from a 'big chop' to a simple trim on your bangs.
It's not just haircuts we're here to offer. Trim also offers beard and mustache grooming. We're also here to provide any form of styling for your important meetings or special occasions.
Saving the Planet
Not only does having Trim in your office save your employees time and money, but it also helps to reduce carbon emissions.
We're offsetting pollution emissions one corporation at a time. By removing employees' need for travel for their haircut, we're helping make a difference in saving our planet.
It only takes 10 employees getting a cut to start making a difference. For every 10 employees that books with Trim, that's anywhere from 100-200 pounds of CO2 emissions saved from being put into the air. This is equivalent to the work done by 2-4 trees!
Trim is an effortless way to make your team eco-friendly!
Our Stylists
Our stylists here at Trim are both highly skilled and passionate about what they do.
Chris, Kelli, and Aylanna have over 40 years of combined experience in the hair industry. Chris and Kelli received their training from Aveda, and Aylanna at SKILLS USA.
Our stylists have a wide array of skills that they bring behind the chair too.
Chris has a Masters in Cosmetology. Chris also previously had a Master Barber License and a Master Instructor License. Kelli aside from her work in salons has extensive experience working with runway and special occasion events. Aylanna has entered competitive hair competitions and placed top 10 in the region.
Our stylists are hustlers who have the drive to provide those in their chair with the haircut and style they've been dreaming of.
Avoiding the Awkwardness
Here are some fun facts about our stylists that work as great icebreakers while you are getting your haircut.
Chris can be found either relaxing on his boat or building his house on the river.
Kelli loves her dog and her family and is working to attain her pilot's license.
Aylanna is the mother of a beautiful daughter and enjoys traveling, shopping, meeting new people and new hairstyles.
Trim 
Keep your pulse on TRIM by following us on Facebook, Twitter, and LinkedIn!
This is our first blog, and there's a lot more coming your way. Keep up with Trim.
Last thing: we welcome suggestions for our blog! Suggestions can be submitted by emailing us at info@trim.co.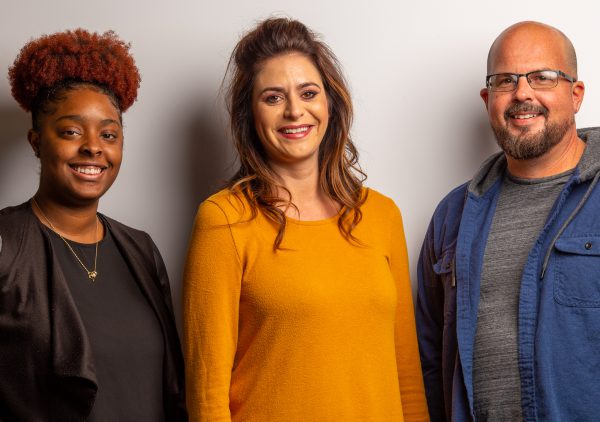 From left to right: Aylanna Brown, Kelli Hecker, Chris Edwards